May.5
CMEF: A NUMBER OF NEW PRODUCTS FROM HISENSE MEDICAL WERE UNVEILED, THE AI+5G WISDOM SCENE BECAME THE FOCUS
When AI+5G cutting-edge technology meets medical treatment, what surprises will they bring to medical imaging?
When AI+5G cutting-edge technology meets medical treatment, what surprises will they bring to medical imaging? On May 13, the 84th China International Medical Equipment (Spring) Fair (CMEF) was held in Shanghai National Convention and Exhibition Center. This year's CMEF continued last year's theme of "Innovation Technology Leading the Future" and showcased the new trends in health technology.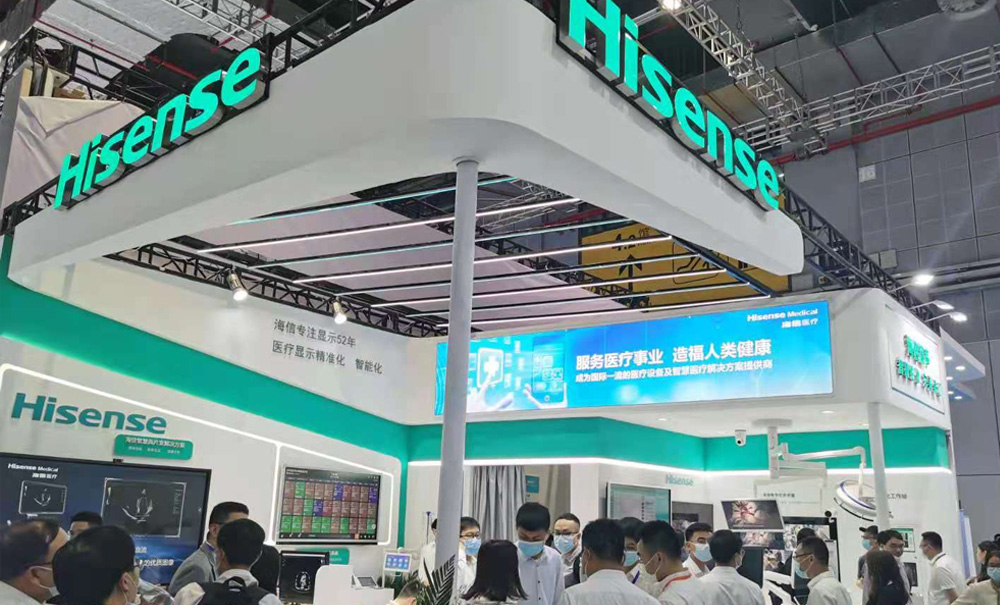 As a representative of domestic independent R&D brand, Hisense Medical released a number of new products such as ultrasound and 55" endoscope monitor, competing with global medical device companies on the same stage. Through interactive scene experiences such as ultrasound experience room, digital operating room, mobile nursing, and intelligent film reading room, the company demonstrated to the industry the in-depth layout of intelligent health, AI+5G technology, etc.
New product debut integration scene to help the medical industry continue to innovate and upgrade
Walking into the Hisense Medical exhibition area, "Serving the medical cause and benefiting human health" was displayed on a large electronic screen in the center. Around this mission, Hisense Medical is committed to become a world-class medical equipment and intelligent medical solutions provider.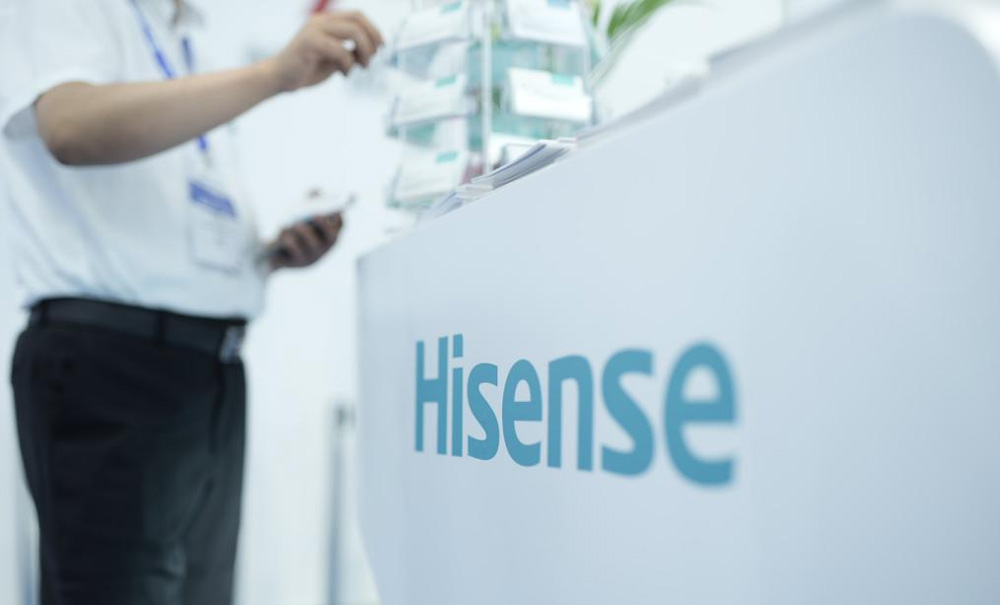 At the scene, Hisense Medical released a package of innovative products and smart medical solutions, including the ultrasound HD40 Star series, 55-inch 4K endoscopic monitor, computer-assisted surgical system (CAS) network version, and intelligent surgical anesthesia information system. Unlike the past, the new products were integrated with the scene experience and released through scenario-based design and interactive viewing.
Hisense Ultrasound HD40 Star Series is a color ultrasound machine launched for private hospitals and primary hospitals. The new product adopts high-end configuration with high-quality image display, one-touch cloud platform, 5G remote consultation, advanced 4D imaging, AI automatic measurement and other functions.
In the ultrasound experience room, the doctor used ultrasound clinically on site and showed the image display of thyroid, carotid artery and heart blood flow to the experience participants. The experience participants reported that the image boundaries were clear and the color blood flow was displayed with high sensitivity, enabling fast and accurate clinical diagnosis.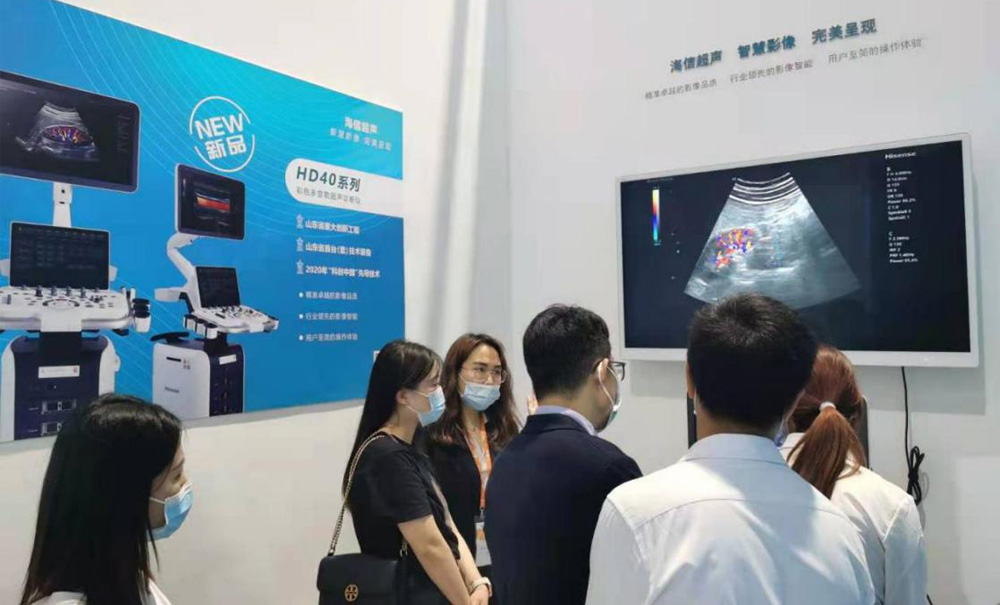 In the digital operating room, Hisense Medical also displayed new products such as 55-inch endoscope monitor HME8C55E, CAS Network Edition and Intelligent Surgical Anesthesia Information System, which became a highlight of the exhibition.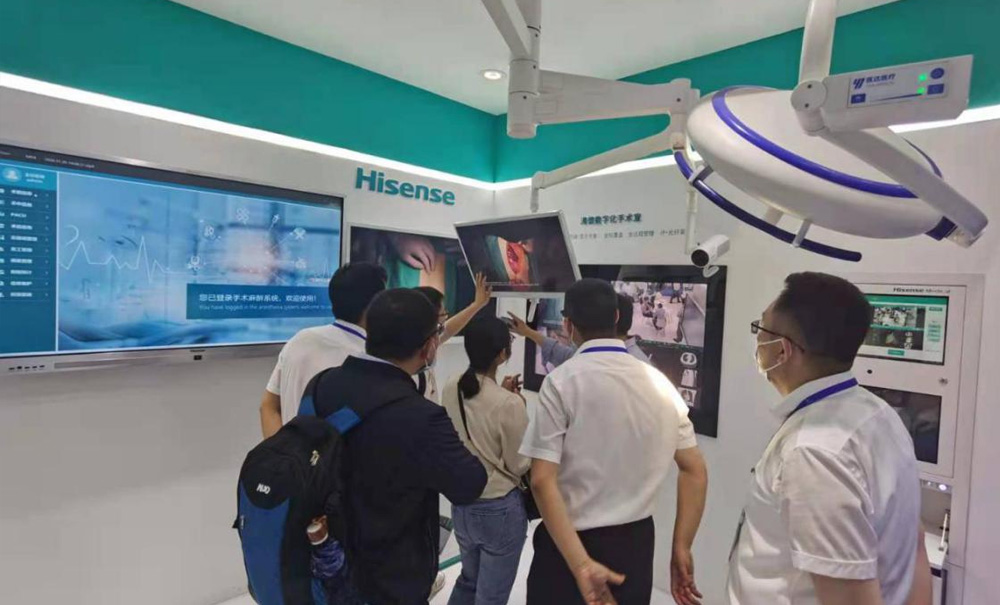 The 55" endoscope monitor has 55" 4K high color gamut display, the world's only self-made multi-partition medical module, special lamination process, real-time picture enhancement technology and other features, breaking through the ultra-high-definition endoscopic vision, helping intelligent medical precision surgery, and has now been supplied in bulk to well-known domestic endoscope manufacturers. Hisense endoscopic display has started technical pre-research since 2014, and the first product was launched in 2015. Currently, it has established a complete product line from 2K to 4K, from small to medium size to 55 inches.
On the integrated information screen with four equal screens in the digital operating room, the reconstruction scheme from 2D images to 3D stereoscopic images was being demonstrated. This solution is realized based on the CAS network version, which is different from the stand-alone version in that the network version is rapidly and accurately reconstructed with AI technology and can be browsed anytime and anywhere. 3 minutes of online automatic and rapid generation of 3D digital organs is at the leading level in the industry.
The Smart Surgical Anesthesia Information System is also making its debut. Combined with the increasingly mature digital operating room system, it provides comprehensive preoperative, intraoperative and postoperative medical and nursing work information management and surgical and case data analysis, providing hospitals with an industry-leading overall solution for smart surgery.
Intelligent medical scene, help build a healthy China
According to data released by the industry, in 2020, the scale of China's intelligent medical industry has exceeded the 100 billion yuan mark, and is expected to reach 125.9 billion yuan in 2021, the industry will enter a period of rapid growth of intelligent, efficient and large-scale development. Intelligent medical care will become a "new dynamic" to promote the rapid development of China's digital economy.
The new products and scenarios released by Hisense Medical also provide a comprehensive interpretation of intelligent medical care, providing a more user-friendly application experience for the terminal medical institutions. In the digital operating room, based on the advantages of image display and artificial intelligence, the traditional operating room is enriched with digital and intelligent technology. Controlled by voice and semantic recognition through the cloud, CAS technology enables preoperative planning, intraoperative guidance, and postoperative assessment to help precise diagnosis.
In the mobile nursing experience area, visitors can experience a whole set of paperless office services provided for nurses in a smart ward environment consisting of PDA and nursing large screens. In the intelligent film reading room, based on the professional diagnostic and consultation series monitors, with Hisense's self-developed imaging collaborative conference system, the imaging morning meeting, consultation, case discussion and other scenarios were displayed.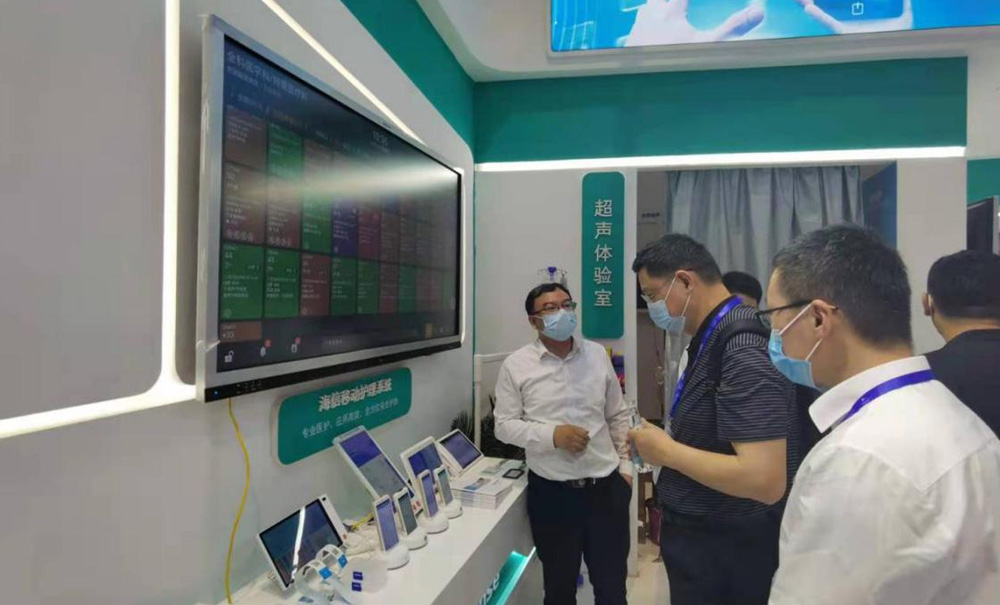 Hisense will continue to increase its investment in the field of intelligent medical care, continuously upgrade AI+5G telemedicine wisdom solutions, help the construction of intelligent hospitals around the world, benefit the public through intelligent medical care, and accelerate the development of domestic medical devices.