Apr.4
5G REMOTE INTELLIGENT MEDICAL HELP NEW MEDICAL REFORM! HISENSE MEDICAL AT THE 11TH HOSPITAL DIRECTORS CONFERENCE
In the ultrasound experience area, doctors used it on site clinically, and the colorful HD images displayed in real time facilitated doctors' accurate judgment. Ultrasound images were projected onto Hisense's 86-inch large 8M intelligent consultation display through 5G network technology, which attracted many attendees to stop and experience.
On April 24, the 11th China Hospital Dean's Conference was held in Qingdao. Hisense Medical set up an ultrasound HD60 experience area on the site to let the participating deans and experts feel the strength of Hisense Medical's independent innovation through the sensable and visual scene experience. At the same time, Hisense Medical's medical monitor, intelligent film reading system, remote consultation system, computer-aided surgery system (CAS), mobile nursing terminal and other intelligent medical solutions also became the highlight of the site.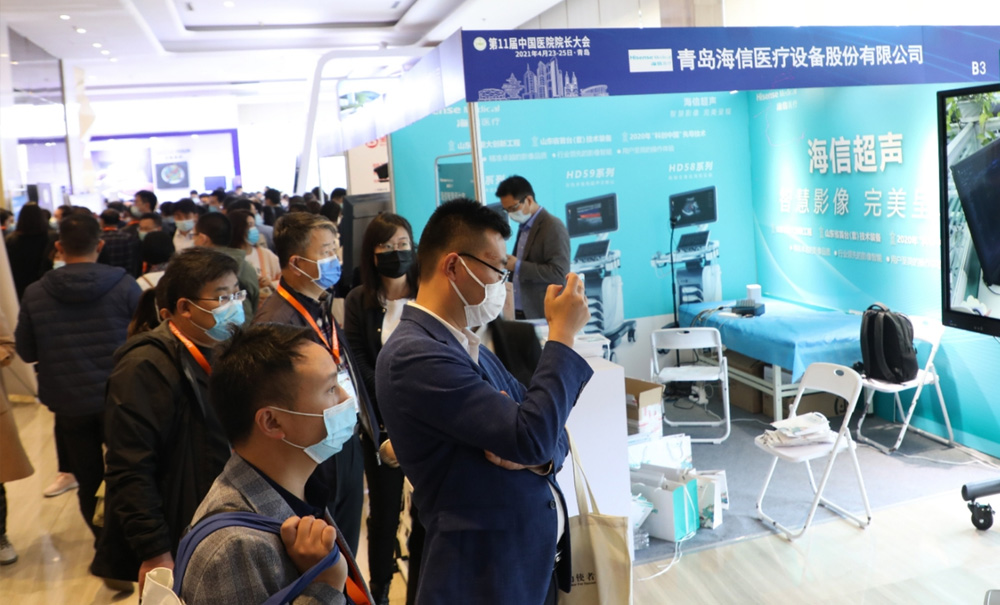 The 11th China Hospital Dean's Conference was co-hosted by China Hospital Management magazine and Qingdao University Hospital, where authoritative experts in the medical field took the stage to share their innovative theories and achievements and help the new medical reform in multiple dimensions. It is reported that about 4,000 people attended the conference, including nationally renowned deans, heads of medical institutions and medical device related enterprises.
5G Remote Ultrasound Technology Helps New Healthcare Reform
Among the many new health care reform theories and approaches, smart medicine offers disruptive changes in several fields, especially showing advantages in promoting the sinking of high-quality medical resources. By adding smart medical devices and information technology to remote areas, local residents can enjoy expert consultation services at their doorstep without having to travel to big cities for medical treatment.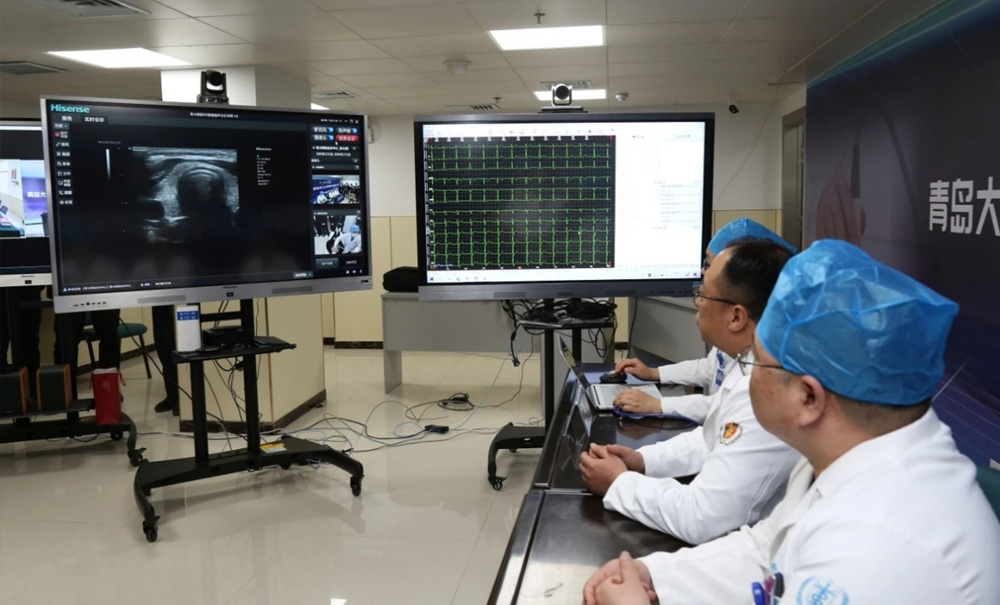 In the last month, Qingdao University Hospital carried out telemedicine assistance for Bolin Town Health Center in Pingyi County, Linyi City, hundreds of kilometers away, by joining hands with Hisense Medical. Through Hisense ultrasound equipment, teleconsultation system and 5G network technology, local medical care can synchronize the diagnosis results with Qingdao experts remotely and consult in real time. The whole consultation process was clear and smooth with ultrasound images and real-time interactivity.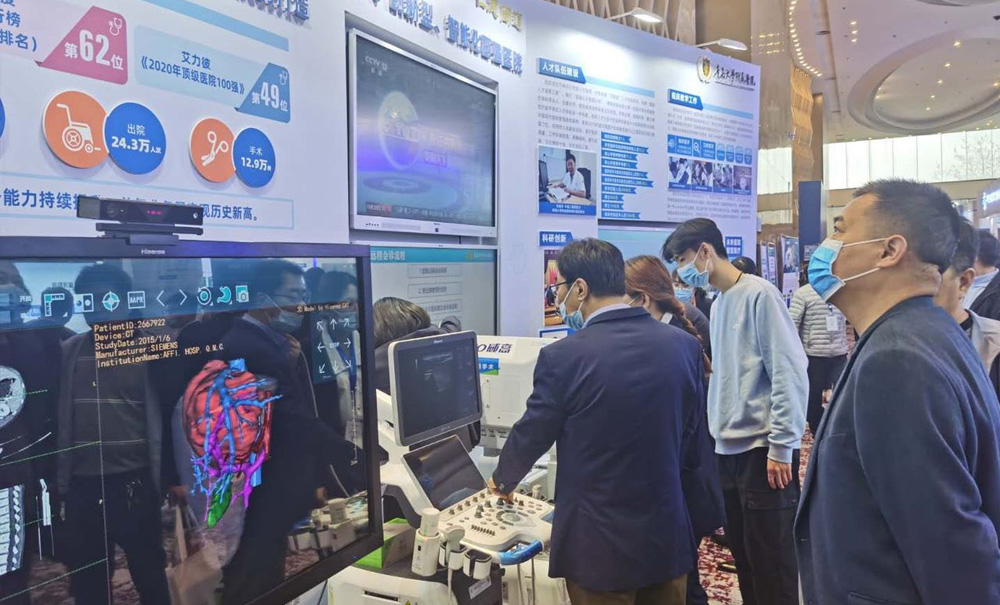 "In the future, we will also continue to make breakthroughs in cutting-edge medical service projects such as 5G remote emergency vehicles, and strive to bring more independently developed ultrasound products and 5G remote communication systems to the grassroots." Wang Guicheng, general manager of Hisense Medical's ultrasound division, said at the conference that Hisense Medical is working closely with many medical institutions across the country to continuously improve 5G telemedicine wisdom solutions and serve the telemedicine diagnosis needs of more remote areas.
Self-developed to create intelligent medical solutions
At the conference site, Hisense Medical showcased its latest achievements in the medical field such as smart medical, precision medical and telemedicine. Among them, Hisense Ultrasound HD60 is a high-end ultrasound device independently developed in China, relying on Hisense Group's profound accumulation in video technology, and the high-quality images were praised by the deans. After experience, they said, "The ultrasound image boundary is clear, the tissue display is clear and delicate, and the color blood flow display is highly sensitive, which makes clinical diagnosis more accurate."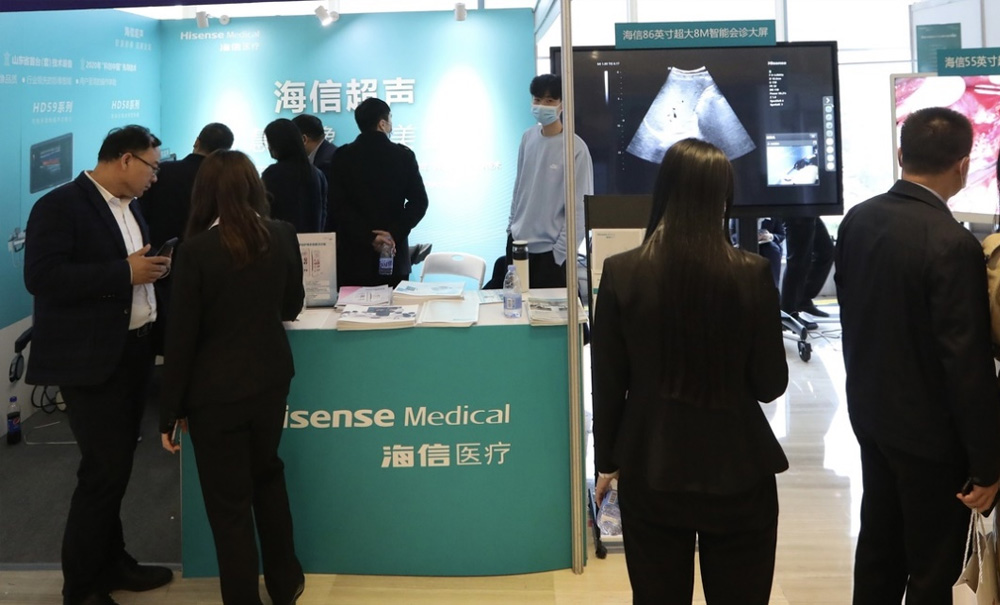 In the center of Hisense Medical exhibition area, an 86-inch large 8M intelligent consultation screen was placed, displaying ultrasound images simultaneously through 5G network technology screen. This is Hisense Medical teleconsultation system solution, which realizes inter-departmental consultation in hospitals and audio and video communication of teleconsultation between upper and lower level hospitals. Teleconsultation has the advantages of professional image viewing, professional diagnosis display, seamless docking of HIS and PACS, and integrated control of equipment.
The Hisense 4K UHD 55-inch endoscopic display in the exhibition area was playing a video of laparoscopic surgery, which attracted many attendees to stop by and watch. Why can the operation achieve high-definition display? Because of Hisense medical monitor's several high-tech. The product applies Hisense's self-developed 4K high color gamut display, real-time picture enhancement (RPE) and other core technologies, so it can significantly improve the performance of medical images in terms of color reproduction and clarity. The attendees exclaimed after the experience, "It's so clear!"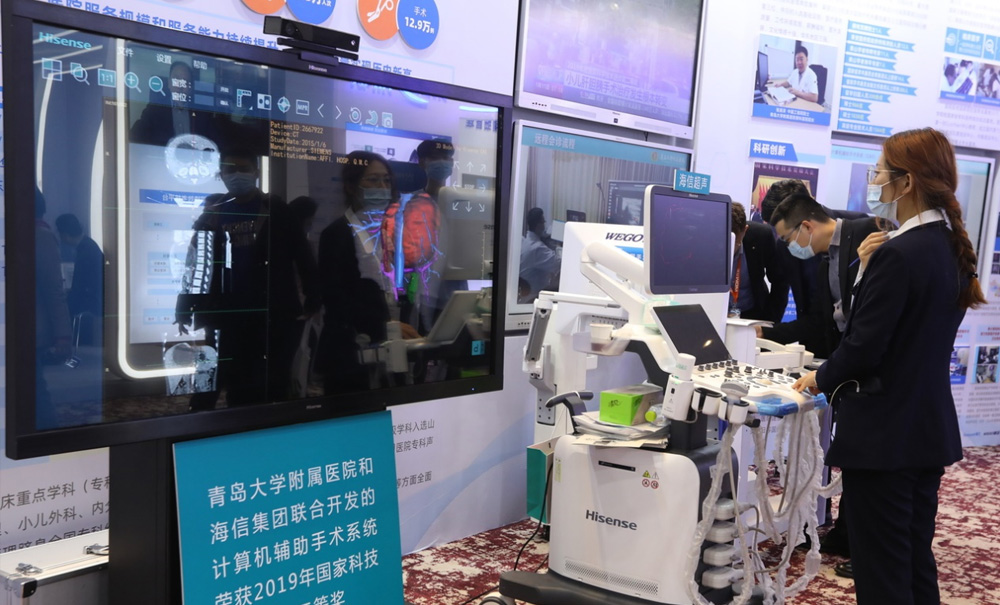 At the entrance of the main conference hall, a 65-inch Hisense display was located at the center of the display area of the Affiliated Hospital of Qingdao University, demonstrating the solution from two-dimensional images to reconstructed three-dimensional images. This is Hisense's Computer Assisted Surgical System (CAS), which helps doctors locate surgical positions more accurately through intelligent segmentation, 3D reconstruction and rendering of anatomical structures in medical images, enabling pre-operative planning and intra-operative navigation, effectively improving tumor removal rates and surgical safety, and achieving a shift from "traditional" to "accurate" surgical treatment. CAS has been successfully applied in more than 100 tertiary hospitals nationwide and won the 2019 National Science and Technology Progress Second Prize for its innovative technology.
In the future, Hisense Medical will continue to increase its investment in the field of intelligent medical care, help the construction of intelligent hospitals around the world, benefit the public through intelligent medical care, take up its due social responsibility and accelerate the development of domestic medical devices.